On last May, me and my parents decided to go to Haadyai by car. So, we planned to go there for a night only. Around 2 am, we hit the road towards north on North-South Express Highway (PLUS) to reach the end of the destination of the highway which is Bukit Kayu Hitam...

The trip took about 3 hours without non-stop to reach Seberang Prai, the coast nearby Penang and another 2 hours to reach the border of Malaysia - Thai. When we almost reach there, we decide to stop after almost 5 hours drive...

Really tiring and the day is still very early morning...

Having some early breakfast. We didn't decide to drive our car crossing over the border and go towards to Haadyai. If you plan to do so, you must have your car license and documents for verifications and not forgetting the driver's license. If not, there's a kiosk where we can hire a person to bring us from Sadao, Yala (south of Thailand) and Hat Yai. They can recommend us some hotels and their rates for our convinience. Shall not worry because they can speak and communicate through Mandarin. Quite shocking for me when they can speak in Mandarin and I think it's for the tourism purpose.

Here's the border in the early morning.

We parked our car here (just nearby the immigration complex) and pay a small sum for security purpose.

Malaysian custom border. "Bon Voyage - Immigration Complex Bukit Kayu Hitam"
Bon voyage means good trip in French!

Closer shot...

For those (Malaysian) who have their chip-embedded passport, there are two autogates for the verification. If not, you have to go through the old chop method. Many of them didn't realise their passports can go through autogate. Only when they were told, the autogate queue started to get long...

Proof that most of Malaysians are IT noobs.

My first passport. Actually, I regret to take the autogate because I won't get my border chop of Malaysia on my book... :(

Successfully pass the verification process and now heading to Thailand south border. Luckily, one of my tour guide brought my parents and me crossing the road towards the complex. If not, we need to walk and the distance is quite long. So, it's important to have transportation either it's your own transport or a tour guide.

When we reached the complex...

WTF man... Although we came the earliest, we didn't expect the crowd. My god!

Most of them are tourists via bus. It's the vacation period for Malaysian that time. Luckily, the management of Thai border was quick fast and efficient. Computer plus the officers job just like a dual core processor.

Comparing to our Malaysian immigration officers, they work slower than tortoise. Not to give a shame to my own country but I was let down when I saw them chit chatting among each other rather than get it to work. See the difference?

First ever Thai car I have been.. :)

Do you know that their Taxis are most likely are new sedan cars like the car above. Even, Bangkok's Thai taxis are Corolla Altis. Hope to see this back in Malaysia not just only in KL.

So, the trip from Sadao to Yala, and Yala to Haadyai took about one hour. In the meantime, I took the opportunity to speak some Thai with the driver. A bit shameful and the trip was full with laughter and fun when we tried to chit chat with the shy taxi guy...

The first driver is a Malay and he spoke a bit of English and Mandarin.

During the trip, the road is more likely to be straight rather than curves and bends. Plus, you won't see a single hill and mountain during the journey.

When we reached Haadyai, we left our stuffs in our hotel and go to the downtown. My first purpose to come to Haadyai was to go back to the temple I prayed when I came to Haadyai seven years ago. My prayers were fulfill although they are not as perfect as I prayed but it's okey and more than enough to me.

Since that time, I promised that I'll come back to The Kuan Yin Temple at Hat Yai Municipal Park. Luckily, I found the place via internet and give the address to the taxi driver.

Funny huh? :P

I found that Thais has a weakness:- A poor command of English. Maybe the reason is that this country has not been conquered by Englishman and other Caucasian countries and English is not very important to them. Based on my findings, most of their education are in Thai language rather than English even in university level.

Speaking of their country, I'm proud of them by their patriotism. Every places you go in Thailand, you will notice that they will have a photo of their King, King Bhumibol Adulyadej including shops, restaurant and even in the middle of the road. They even pray them like gods...

When they saw the royal family, they will lower their heads to show their respect. They won't raise their head more than the royal family members' heads. So cool and a real patriotic heart. Head is the sacred part of body according to Thai cultures. So, don't simple touch their heads because it's forbidden.

Okey, back to my journey to temple. The temple is located at hillside and we need to go high place.
Didn't manage to capture the whole scene of the temple. There are two temples:- Chinese Kuan Yin temple and Thai version Kuan Yin temple...
For the greetings of the temple, we should go around the bells and hit their clappers to chime. Make at least a round and you can go for more rounds if you want.

My mum... :)

And the Thai Kuan Yin statue in gold!

No time to pray the goddess. Next time, I will go to that statue for some prayers... :)

The view of Haadyai city...

Last time, there's a four-headed Buddha under the Chinese Kuan Yin statue but it was shifted to somewhere... Sigh, I can't the God but I hope in the future, I can see the God again if we are destined.

There are 8 god statues but I'm not sure who are they...
They are nicely decorated...

A ha! I know this one. The god of war! He he he~

The clouds in Thailand is big and white puffy...
Can't find such clouds back in Malaysia.

Thailand is very famous with their lotus flowers and consider as the flowers for praying. I had a bulb of lotus, some joss sticks and red candles and they are at reasonable price.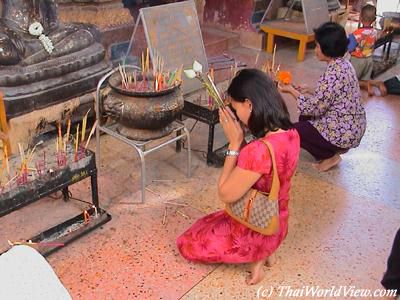 Something like that...
And like that! :)
They are very famous not just only for praying purpose but for gardening and decorations.

Close-up.

Purple lotus.

Kuan Yin with two small goddesses.
Yeah, reminding you that do not purchase birds from the sellers for prayings. I considered that it is an act of cruelty where they caught the birds and sell them and the buyer releases them as a good deed for Buddha. I don't think so because those birds will be recaptured and the process will begin again. Plus, the price is not reasonable.
Anyway, we hit back to downtown and have some nice food and shoppings. I saw quite a lot of drivers who are quite daring and not afraid of accidents... Especially motorists!
See? Not wearing a helmet is not a problem even to police. It's their freedom whether they want to wear it or not.

Some more, they can sit as if like they are riding bicycle... Actually, it's not a traffic problem for them as long as they keep their speed and pay attention to their safety on the road.

Another thing which shocked me is their wires on the electric poles!

Tangled like hell!

I want to see how they are going to change their wiring if got any faulty. He he he!

Much greater is they keep the extra wiring...

Hopefully they can untangled the wiring like hair by using shampoo! Lolz~

Some temples construction.

Thailand manufactures low 4WD like the above. It's not as same as Malaysia where our 4WDs are high. Talking about cars, you mustn't miss the Tuk tuk taxis!

They are more famous than regular taxis around Thailand.

I've been a few Tuk tuk before to go around Haadyai town. There are few things you mustn't take for granted before you take Tuk tuk.
Firstly, if the price is more than 50 - 100 baht for short distance, bargain with them until they will reduced it. If not, leave them and head for other Tuk tuk.
Don't get cheat
by paying high price which is not reasonable and don't get in even they are tempting.
Secondly, stick to your holiday plan and don't take the advices from the Tuk tuk drivers. Mostly, they will take you to further from the town and in the end charging hefty fee. Even it looks interesting and fun, don't get into their words. If not, same way, leave them. I heard even taxi drivers do that such as bringing you to gem store which are fake by the way and they are actually wasting your time and money. So, don't get cheat.
Thirdly, this is for your own. Don't get fed up when the Tuk tuk have other passengers. Be
patient
although the Tuk tuk is full and it's stuffy. This is part of the experience of taking Tuk tuk. So, get along with it! :)
Can't forget their frenzy fruit stalls! So many selection of tropical fruits such as mangoes, papaya, guavas and others! Must try because they are very fresh, more fragrant and taste supreme. It's totally different than Malaysian fruits.

They even have many delicacies to select including Malaysians and Thais as well!

Thailand is rather famous in motors than cars. I can see more motorcycles than cars on the road. This is because the main roads are typically small and Thais prefer to use motorcycles due to its mobility and use lesser petrol...

I bumped into a cute motorcycle. I considered it as a scooter.

So unique!!!

See? Their number plate can be decorated and customized! Do you know what is the brand of the motor? It's Yamaha. I can't find this cute little scooter back in Malaysia...
Wanna bring it back from Thailand... :P
Anyway, for some advices during trips in Thailand:-
Plan your holiday carefully. Choose your destination and plan your money. Don't spend too little or too much.
Get more info about Thailand getaways. Try out new things can be adventurous and have new experience. At the same time, show some respects to them. Follow and obey their rules although they seems ridiculous to you. Be flexible on what you should and shouldn't do and what you can and cannot do.
Make lots of bargain. It can save your money and get more stuffs! Bargaining can keep you away from cheats and scams too. So, don't hesitate to do that! :)

Don't get into sex relationship

like one night stands and hookers. You don't want to get contract to STDs especially HIV/AIDS. Even you have protections and preventions, I don't recommend it. Never come to Thailand for the sake of sex. (This is not just only for straights but for the gays). So, save up your sex thought and put your fun by exploring Thailand culture, place and not forgetting the authentic foods and delicacies!
More to come on my
next post
!
A bientot!