Over half the adults in the United States drink coffee on a daily basis, and the percentage has been on the increase for many years. Canadians enjoy their fair share as well.
I'm a coffeeholic as for the record. I enjoy coffee. Espresso, latte, cappucino or just regular ones. Mocha? I'm not fond with it because I dislike chocolate. I mean the
super concentrated
chocolate because it will overcome the taste of a food or beverage. Those are crazy chocolates!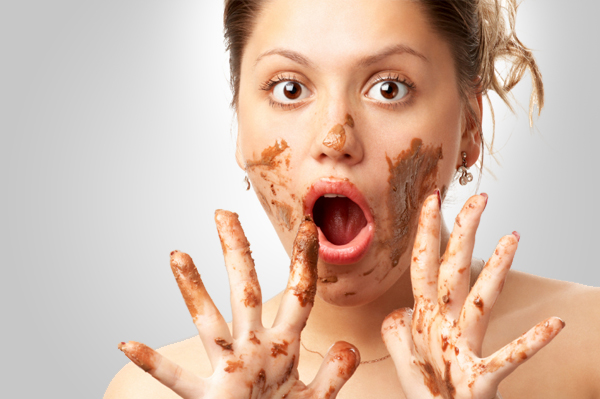 But not as crazy as her...
I just browse something and the net came out something like this.
Now you know how Starbucks and Coffee Bean make their beverages. Time to make them ourselves (for the sake of our wallet)!
I love latte and espresso. Latte is kind of coffee you can taste with lots and lots of milk. I think it deals with creams. Plus, there's lot of art you can make on it too!
The typical one. Fern.
For those who greet their lovers in the morning...
Animal lovers...
Science fiction geeks...
I guess this one is for your kids and children...
Reminding you about your dog (it's waiting you to feed him/her)
This one reflects the coffee maker. Lazy people.
Okay. Let me ask you, why drink coffee? I guess most of them take coffee when they are busy and sleepy. As we know, coffee is famous of their main compound: Caffeine.
This is caffeine with 4 nitrogen, 2 oxygen and 3 methyl groups. Don't get it? Let's scroll down...
Caffeine is one of the analgesic drug which can induce people from sleeping. As for me, I have it whenever I'm going to study late night. So...
My eyes will stay open...
I will be excited as my adrenaline pumps (without going to exercise)...
Don't follow this guy as he's having coffee via IV drip.
Actually, having to much caffeine (coffee) is not a good idea.
So many side effects!
But...
According to Maya Karin, coffee contains anti-oxidants which will fight against cancer. Not forgetting as she says, "More reasons to have a cup of Nescafe."
So, you know what you can say about the goodness of having coffee once other people ask you not to drink coffee. :)
A bientot!